​

The Challenge:
 For millions of gamers, the God of War series is sacred. So when the newest game was announced, fans were stunned to learn that the franchise's popular setting in Greek myth had changed to a new world of Norse legends. Fans needed evidence to believe that this game could be the best God of War yet. And they would have questions about what to expect in the year-long wait for the game—with only a few official trailers expected to be released.

​

The Solution:

 
Norse mythology is recorded in a historical tome known as the 
Prose Edda
, which of course doesn't include any stories of the heroes from a video game. However, like any ancient manuscript, pages have gone missing over time. 
The Lost Pages of Norse Myth
was designed to tell these "missing stories" by integrating the game's heroes into Norse legend through rich storytelling across a range of mediums.

The Lost Pages of Norse Myth
launched at the E3 gaming expo with a special live event: an emotional prologue for the game performed through captivating sand art.
Fans were challenged to decode riddles appearing in ancient Nordic runes. Once the phrases were translated, players were rewarded with exclusive game concept art. ᛁ ᛖᚹᛖᚾ ᛚᛖᚫᚱᚾᛖᛞ ᛏᛟ ᛏᚱᚫᚾᛊᛚᚫᛏᛖ ᚱᚢᚾᛖᛊ!
Rather than releasing concept art in a traditional format, early drawings of the game's menacing creatures were brought to life in
The Lost Pages
.
In the game, players discover triptych shrines containing backstory. This special animated version delves into the story of one of the game's most epic characters.

In the new game, the hero's iconic weapons were controversially replaced with different ones. Using 3D technology, fans could explore the new weapons right in their feed.
Fans learned more about deeper character motivations—and mysterious powers—in a text-based chatbot adventure, featuring gorgeous original art to unlock. Play
A Call from the Wilds
 on Messenger.
Fans were unfamiliar with the game's new mythology, so this Norse primer brought an epic, historical tale of war to life through an elaborate, animated illustration.

For fans wanting to catch up on all
The Lost Pages
(especially after a short lifespan on social channels), the campaign website housed every chapter and podcast in perpetuity. Visit
The Lost Pages

website
.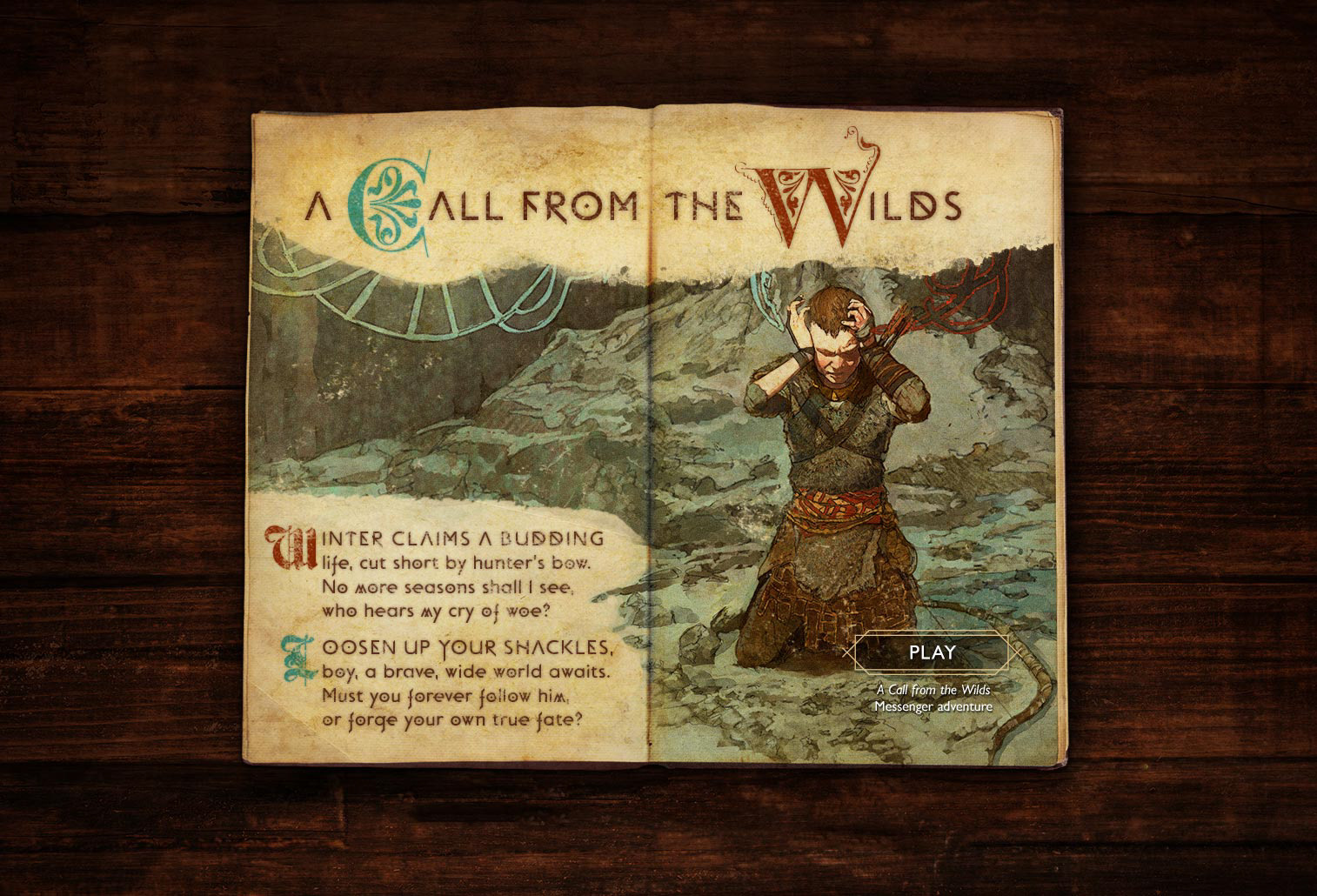 Each chapter of
The Lost Pages
featured a companion podcast, which included epic stories that became part of the game's official lore, as well as insightful developer interviews. Listen to the podcast on
iTunes
,
Google Play
, or
Spotify
.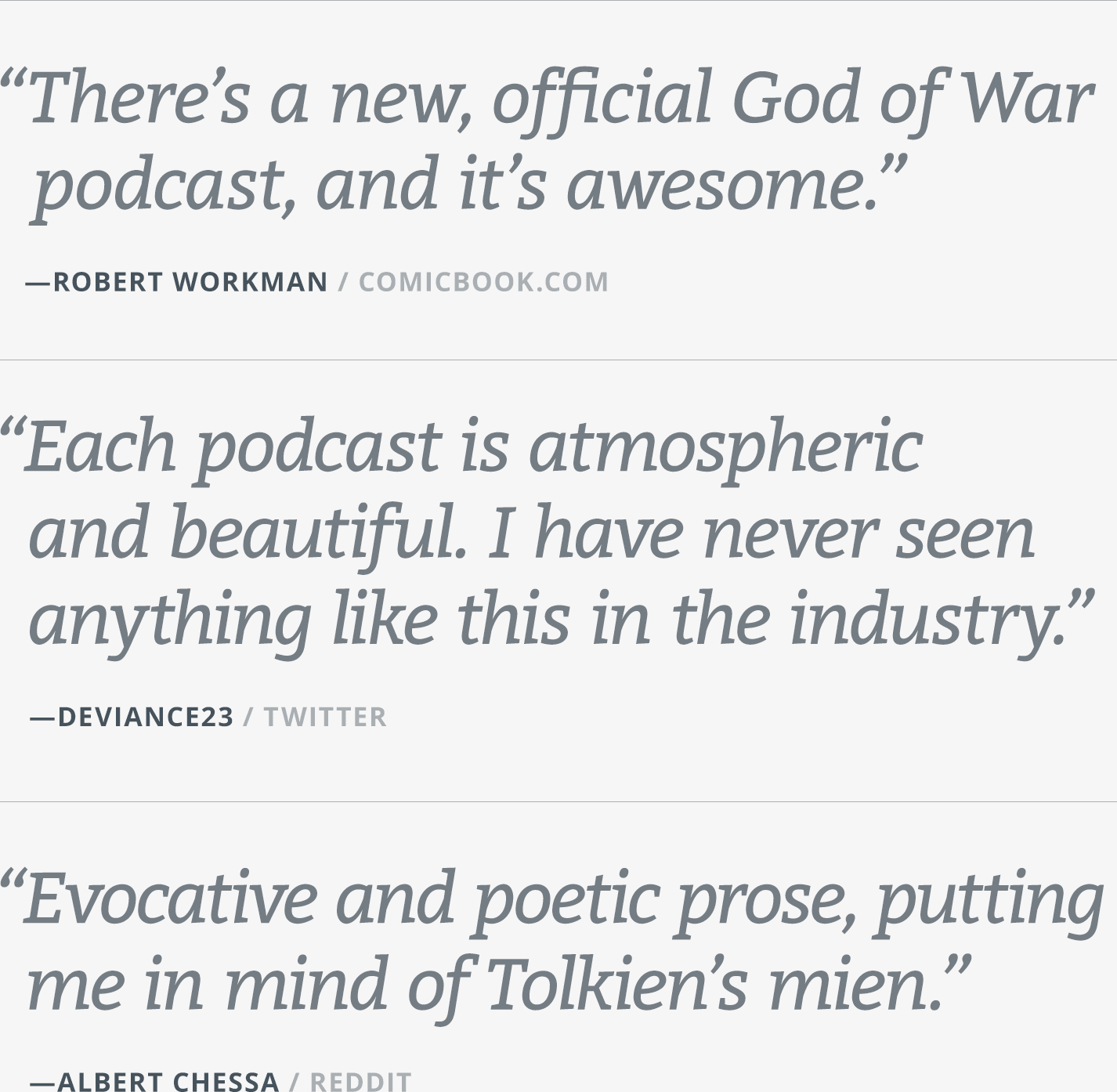 The Results: 
With engaging content released month after month, 
The Lost Pages
 campaign generated astounding results, with over 
944M impressions
 and nearly 
850,000 social mentions
. God of War went on to become the fastest-selling PS4 exclusive title ever, proof that fans' interest and excitement endured in the year leading up to launch.

Website: 
The Lost Pages of Norse Myth
Awards: 
PromaxGames Awards:
Gold • Best Marketing Campaign of the Year (All Inclusive)
Gold • Best Use of Social Media
Silver • Best Pre-Order Campaign
Clio Entertainment Award:
Multi-Platform Campaign
SF A

DDY A

wards:
Gold • Illustration Series
Silver • Online/Interactive Branded Content & Entertainment
Silver • Social Media Campaign
Silver • Art Direction Campaign
Bronze • Online/Interactive Cross-Platform Campaign
Bronze • Branded Content & Entertainment Campaign
Bronze • Copywriting
Bronze • Online/Interactive Campaign
Bronze • Integrated Advertising Campaign
Bronze • Podcast Series
Bronze • Augmented Reality
In the Press:
Games Radar
Rolling Stone
Dual Shockers
Collider
EGM Now
Reddit
Polygon
Game Informer
ResetEra
Comicbook.com